You can get perfectly cooked and crispy parsnips all done in the air fryer. Coated in honey and mustard, these air fryer parsnips not only make a great side dish for a roast dinner, but a delicious snack and alternative to fries. Crispy on the outside and light and fluffy inside.
Air fryer parsnips are such an easy side dish to make. Just mix everything together in a bowl and cook them in the air fryer for 13 minutes. Much quicker than roasting them, and it uses less oil too. They are honey glazed parsnips, with a creamy Dijon and have all the flavour of roasted parsnips, but much easier.
If you haven't tried air frying vegetables before, then you are missing out. Why not try our Air Fryer Carrots, Air Fryer Roast Potatoes, Air Fryer Brussels Sprouts, Air Fryer Mushrooms or Air Fryer Broccoli?
Jump to:
Why you will love them
Easy side dish - This is as simple as cutting the parsnips, mixing them in a bowl with the other ingredients and putting them in the air fryer.
Quicker - Cooking parsnips in the air fryer is so much quicker than roasting them, and saves room in your oven too. You still get crispy parsnips, but in a fraction of the time.
Healthier - Cooking parsnips in the air fryer is healthier because you need much less oil than you would if you were roasting them.
Adaptable - You can keep these plain with just a little oil and seasoning, or you can add honey and mustard.
Ingredients and substitutions
Parsnips - Choose medium sized parsnips and you want to make sure that they are firm with a smooth skin. Avoid parsnips that are large and with soft spots and discolouration. If your parsnips still have tops, make sure they are green and fresh.
Oil - We used olive oil, but you could use vegetable oil instead.
Honey - We love sweet parsnips. They are naturally sweet anyway, but adding honey just intensifies that. You could swap it for maple syrup if you want to keep it vegan.
Mustard - We think this adds a lovely creaminess to air fryer parsnips, as well as a kick of flavour. You could swap it for wholegrain mustard if you prefer.
Salt and pepper - Generously season.
A full ingredients list with measurements is in the recipe card below.
How to make air fryer parsnips - Step by step
One: Put the parsnips into a bowl (a). Add the oil, honey, mustard, salt and pepper (b). Mix well so that all the parsnips are coated (c).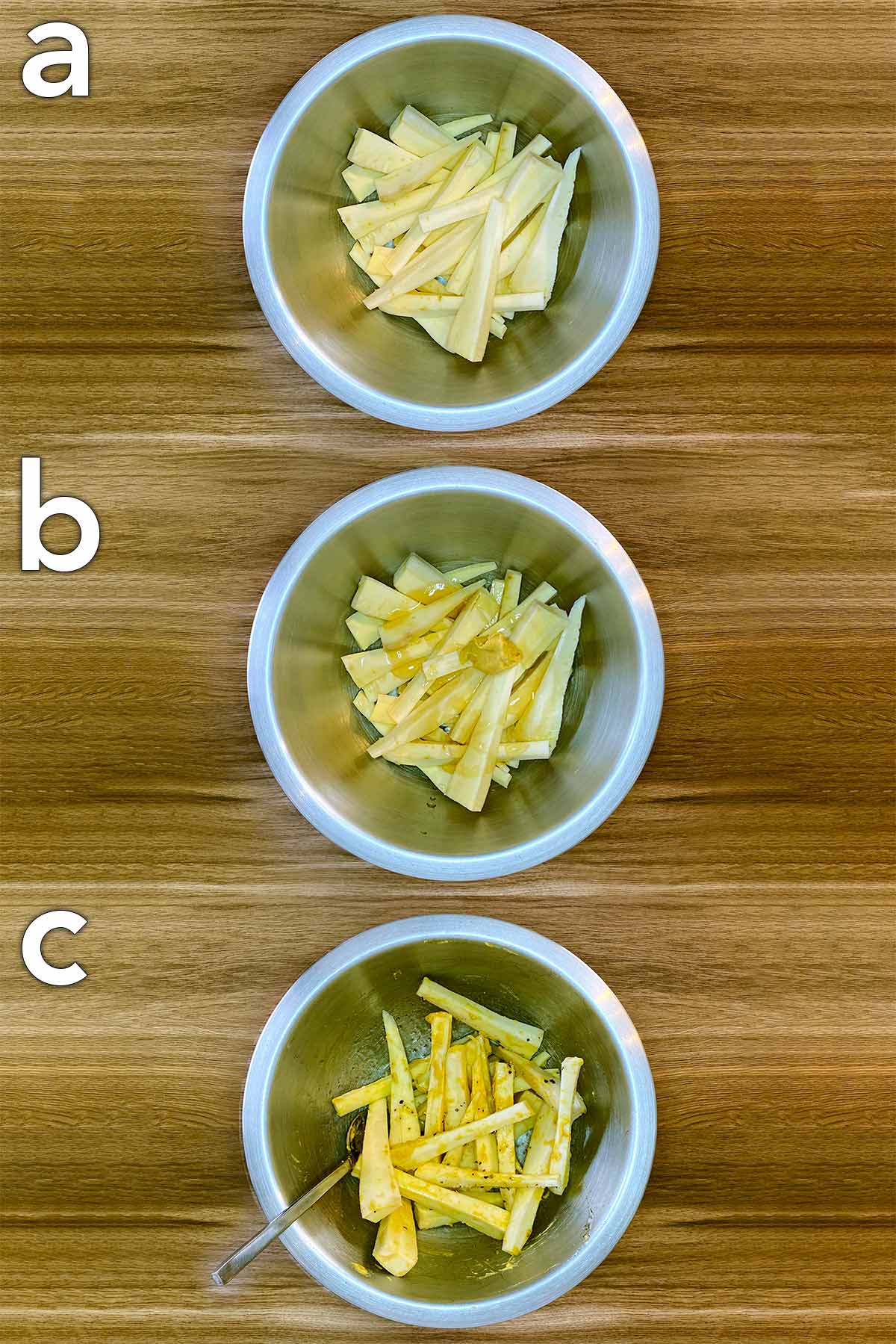 Two: Put the coated parsnips into the air fryer.
Three: Cook at 200°C for 13 minutes, shaking the basket halfway through.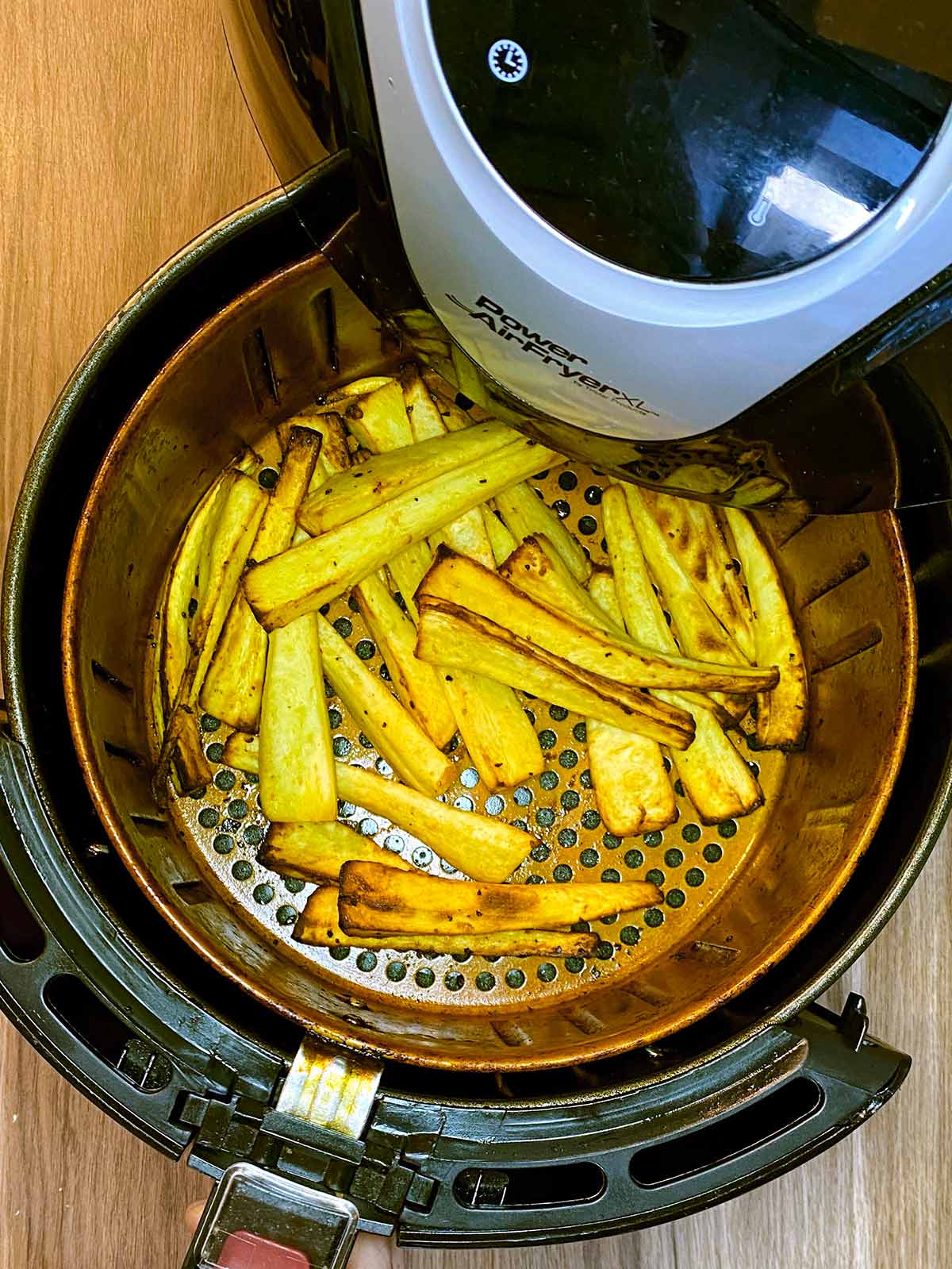 Why use an air fryer?
Air fryers are a healthier way to cook food. You can get crispy food, like chips with much less oil than frying or baking.
Air fryers usually cook food in less time than it would take to roast it. These carrots would take around 35-40 minutes in the oven, but they cook in the air fryer in just 20 minutes.
They might take up a fair amount of space on your countertop, but they are so versatile that you will use them over and over again. They are very easy to clean too.
There is nothing worse than using your oven on a hot day, and heating up the whole kitchen. Using the air fryer stops this from happening.
Using an air fryer means more space in the oven. This is especially important if you're cooking a big meal like Christmas dinner and need your oven space for the meat and potatoes.
Variations
Honey and mustard are a delicious flavour match. The combination of the sweetness from the honey and the spice from the mustard just works in a sauce or dressing.
We used Dijon mustard to make this, as it makes the sauce nice and creamy. But, you could use English mustard to give it even more of a kick or wholegrain mustard so it have some texture to it. It just depends on how spicy you like things.
Honey not only makes these roasted parsnips nice and crispy, but it really brings out the sweetness of them. You want to use a really good quality runny honey, so it has the best flavour.
If you want to keep these roasted parsnips vegan, then swap the honey for maple syrup. They might not get quite as crispy though.
We added a sprinkling of fresh parsley before serving, as it really lightens them up, however there is no reason why you can't add some herbs to the mix before putting them in the air fryer. Woody herbs like rosemary and thyme work well with honey roasted parsnips.
You could use this recipe as a base to roast lots of different vegetables. Add some carrot, potato and beets too and roast them all together in the sweet honey sauce. It would make a really filling side dish that is easy to make a big batch to feed a crowd. They are perfect for Christmas Dinner.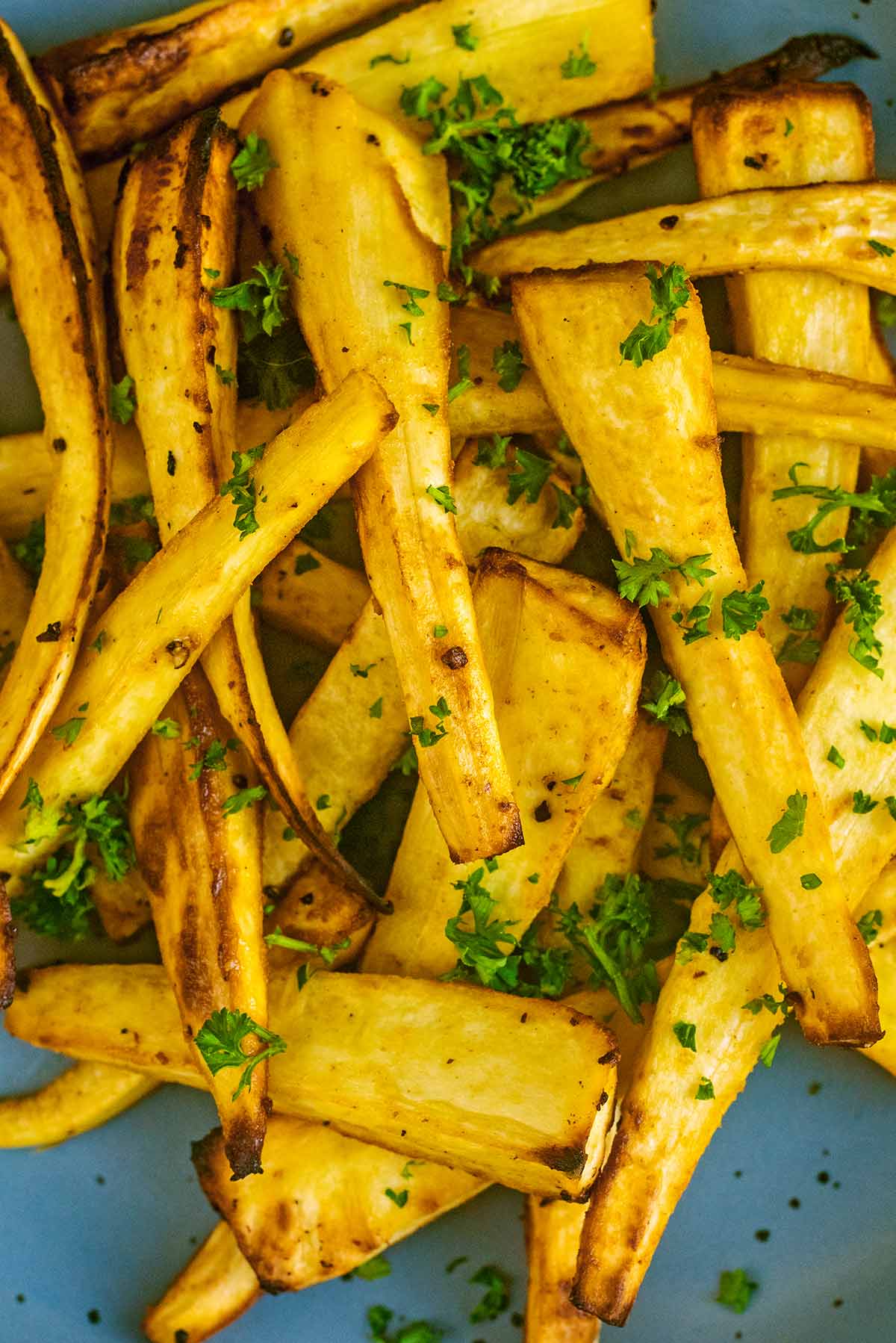 What to serve with air fryer parsnips
These parsnips are definitely a roast dinner essential. But, parsnips by themselves don't make a roast dinner. Why not serve them with some of these recipes:
Frequently Asked Questions
Do I need to par-boil the parsnips?
No, there is no need to par-boil them first. However, if you wanted to do that then it would cut down on the cooking time. We don't because it just adds an extra step to the recipe and we want to keep air frying parsnips nice and easy.
Can I make air fryer parsnips in advance?
Yes, you can cut the parsnips and coat them in oil, honey and mustard and then leave them in a bowl in the fridge for a couple of hours until you are ready to cook them.
How long to cook parsnips in the air fryer
Every air fryer cooks differently, so you will need to keep an eye on them so they don't burn. We like some crispy edges, but you don't want them black. Ours took 13 minutes at 200°C, but check them at 10 minutes.
Can I double this recipe?
You can, but you will need to cook them in batches. Make sure there is room in the air fryer for the air to circulate and that there are not too many parsnips piled on top of each other, otherwise they will not brown. This is a great recipe for cooking smaller batches.
What is the best air fryer to use?
We can't rate highly enough the Power Air Fryer XL. The 5 litre capacity is big enough for cooking for the whole family and it can fry, grill, bake, sauté, roast and steam. There are simple touch screen controls and it heats up quickly and can cook your food up to 70% faster than a conventional oven. Also, it's dishwasher safe.
Are parsnips healthy?
Parsnips are full of important nutrients. One cup (133 grams) contains 25% Recommended Daily Intake (RDI) of Vitamin C, Vitamin K and Foliate; 10% RDI of Vitamin E, Magnesium and Thiamine; and 7% RDI of Phosphorus, Zinc and Vitamin B6.
How to store air fryer parsnips
If you end up with leftovers of these, which is never a problem in our house as they are the first thing on the plate to be eaten, then they are easy to store, or re-purpose.
You can keep them in the fridge in an air tight container for 2 days and then just fry up in a pan to heat through. However, we prefer to re-purpose them and use them in a different meal. You could mash them up to use in our Broccoli Bites.
More side dish recipes
If you've tried this air fryer parsnip recipe, let us know how you got on in the comments below.
Tag us in your creations on Instagram @hungryhealthyhappy - Use the hashtag #hungryhealthyhappy too.
Recipe
Air Fryer Parsnips
Perfectly cooked and crispy parsnips all done in the air fryer. Coated in honey and mustard, these air fryer parsnips make a great side dish.

Gluten Free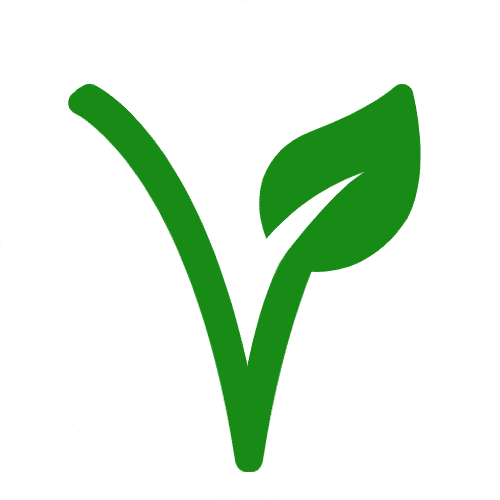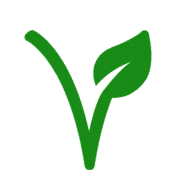 Vegetarian
Pin
Print
Save recipe
Recipe saved!
Ingredients
450

g

Parsnips

-

sliced into battens

1

tablespoon

Olive oil

1

tablespoon

Honey

1

tablespoon

Dijon mustard

1

pinch

Sea salt and black pepper
Instructions
Put the parsnips into a bowl. Add the oil, honey, mustard, salt and pepper. Mix well so that all the parsnips are coated.

Put the coated parsnips into the air fryer.

Cook at 200°C for 13 minutes, shaking the basket halfway through.
Notes
How you cut your parsnips will depend on how big they are. You might be able to just slice them lengthways in to 4 pieces, but if that is too big then half the whole parsnips so you have a top and bottom and then cut each of those into 4.
Make sure the parsnips are cut to the same size so that they cook at an even rate.
Make sure everything is well mixed in the bowl so all the parsnips are fully coated.
You don't have to peel the parsnips, but we prefer the texture of when they are peeled.
Nutritional Information
Serving:
1
portion
|
Calories:
269
kcal
|
Carbohydrates:
50
g
|
Protein:
3
g
|
Fat:
8
g
|
Saturated Fat:
1
g
|
Polyunsaturated Fat:
1
g
|
Monounsaturated Fat:
6
g
|
Sodium:
107
mg
|
Potassium:
861
mg
|
Fiber:
11
g
|
Sugar:
20
g
|
Vitamin A:
5
IU
|
Vitamin C:
38
mg
|
Calcium:
87
mg
|
Iron:
2
mg
Disclaimer
The nutritional information provided is approximate and is calculated using online tools. Information can vary depending on various factors, but we have endeavoured to be as accurate as possible.